Extending modern bank services to every citizen in Digital India
Centuries-old institution reinvents itself for digital age
The Indian subcontinent gave rise to one of the world's oldest civilizations—yet roughly half of the nation's population today is less than 30 years old.
SBI itself embodies such complexities. At over two centuries old, the bank must reinvent itself for relevance to digitally savvy young customers who demand fast, reliable, and secure mobile payment services. New business-to-business services require fast time to market. SBI is publicly traded and must operate competitively as a business to satisfy shareholders.
At the same time, the bank is 51% state-owned and committed to national policies of citizen service. When the government launched an initiative to ensure every Indian has a bank account, 55% of that load fell on SBI. The bank's account base also grew when associate banks were merged into SBI, and it must prepare for continued growth both in-country and internationally.
Evolving from its 19th century roots, SBI is at the forefront of the country's digital transformation, and must operate as a modern, agile institution serving national prosperity.
Becoming a technology company with a banking license
Skyrocketing growth combined with the rise of new digital channels, called for IT transformation of a magnitude SBI had never before experienced. SBI's account base grew from 500 million to 750 million through governmentmandated mergers, and continued growth remains on the horizon. Bank systems must be ready to support up to two billion accounts, along with the resulting data explosion.
SBI aimed to upgrade its core banking infrastructure, modernize its ATM network, and strengthen security. While SBI's brick-and-mortar branch network is essential, younger customers demand digital services. What's more, only approximately 140 million of India's mobile phones today are smartphones; SBI needs a hybrid infrastructure to support a seamless experience for all customers.
Although SBI has steadily upgraded its technology infrastructure over the years, the bank needed its IT data center footprint re-designed and equipped for next-generation capabilities to support growing digital services such as SBI's mobile wallet. To these ends, it endeavored to reinvent its IT technology stack and data center architecture for lower cost and greater adaptability.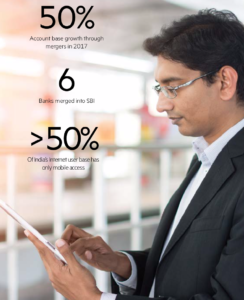 Solution
Future-oriented architecture delivers scale, resilience, security
To meet next-generation customer demands, SBI re-designed its data center architecture and upgraded its IT technology stack for growth and agility. Benchmark testing of its domestic core banking application on the new HPE platform proved the system can scale to support masses of customers.
SBI's international banking application was deployed on a new High Availability architecture, including highperformance computing and all-flash storage from HPE. The virtualized set-up meets global banking standards and enables database hosting that fulfills each country's requirements including timely reconciliation across zones
SBI is working with HPE Pointnext consulting on end-to-end engineering to reinvent its physical data center footprint. It's one of the first banks in India to adopt a three-way setup to deliver full redundancy, with a main data center, a hotsite replica, and a disaster recovery facility for maximum resilience. A new modular, 9 megawatt, 43,000 square foot, Tier III (99.982% availability) data center is under construction in Hyderabad.
For its growing mobile banking services, SBI worked with HPE and its partner, VMware, to create a robust, scalable private cloud. SBI is also deploying HPE composable infrastructure to upgrade tellers' web access to the core banking system and strengthen branch security with biometric fingerprint scanning of tellers—a use case that approaches Internet of Things capabilities.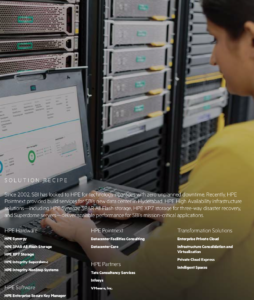 Results 
Positioned for prosperity
As increasing banking opportunities bring India's 1.3 billion people into the country's thriving economy, SBI's new highavailability infrastructure is helping the bank add new customers and escalate mobile banking adoption by providing massive scalability, business agility, security, and a seamless customer experience through all of the bank's delivery channels around the world. SBI's mobile banking app, SBI Buddy Wallet, brought money transfer, purchasing, and bill paying to more than 10 million new users in just one year.
The highly available infrastructure enables SBI to host e-banking and e-trade services as part of its global expansion while meeting compliance requirements of dozens of regulators worldwide. The new modular data center architecture is flexible to grow as SBI's business does, with energy efficiency and adaptability to market demands that cannot be foreseen today.
Revitalizing staff productivity, for every two new IT employees, SBI now can free 10 bank and office employees from non-value-added operational tasks—and redirect them toward future-oriented marketing initiatives.
Since rising on the banks of the Indus River millennia ago, India's civilization has reinvented itself continuously. Today's journey toward Digital India, supported by SBI's technology-enabled innovations, embraces all citizens as active participants in the global future.