Chemistry that builds our world–powered by data insights at the edge
Bring IIoT vision into the reality of operations
IoT promises enhanced worker safety, production and asset management. But specialized manufacturing needs more than one-size-fits-all solutions or a conservative approach.
Texmark's vision hinges on the promise of the Industrial Internet of Things (IIoT): sensored devices combined with advanced analytics to generate insights, increase efficiency, and reduce risks.
But implementing IIoT in a petrochemical plant requires a unique infrastructure.
Connectivity must be ubiquitous, but hard-wiring facilities can be prohibitively expensive. Texmark's edge environment demands ruggedized technology and stringent safety standards. Seconds count in manufacturing. To avoid data latency, analytics have to be delivered at the edge.
To integrate IT with its operations, Texmark had to digitize pumps, pipes, processes and utilities. The effort required the expertise of more than a dozen vendors, and a cultural shift for its own employees.
To achieve its vision of an intelligent plant, Texmark needed a bold, multi-pronged approach: define the most valuable use cases, match those with the right technologies, and deploy simultaneously, without disrupting 24/7 plant operations.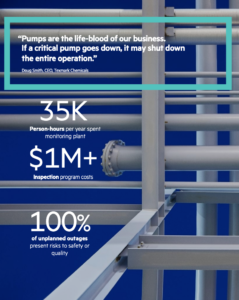 Solution
An IIoT journey, hand in hand with HPE and its partners
Texmark embarked on a three-phase IIoT journey, bringing together a Partner Consortium to create an industry-leading Refinery of the Future.
Texmark launched a project to implement end-to-end IIoT. It leveraged the expertise of CB Technologies to integrate IIoT technologies from HPE, Aruba, and an extensive list of industry-leading partners. First, Texmark established a digital foundation, enabling edge-to-core connectivity. Aruba deployed a secure wireless mesh network, with Class I Div 1 wide area access points and ClearPass for access control. Aruba beacons provide location-based services. The wireless solution came at about half the cost of a hardwired network.
For edge analytics, Texmark selected the HPE Edgeline Converged system, an IoT platform ruggedized for manufacturing environments. An HPE Edge Center solution integrates compute and networking within a single cabinet. The system is connected to Texmark's control room, edge devices, and sensored assets such as pumps, enabling real-time data collection and analytics. It also receives data from Texmark's Distributed Control System software, integrating OT and IT.
This infrastructure now serves as the backbone that supports Texmark's five solution frameworks: Predictive Maintenance and Analytics, Video as a Sensor, Worker Safety and Security, Connected Worker, and Asset Integrity Management.
As the official Systems Integrator and IT Support Contractor for the entire project, CB Technologies orchestrates technologies on behalf of the Partner Consortium and maintains Texmark's IT systems as the solution frameworks are deployed and integrated.
The Partner Consortium includes HPE, CB Technologies, Aruba, Deloitte, Intel, PTC, and many others. These partners collaborate on the different solution frameworks, enabling the simultaneous deployment and unification of a wide range of hardware, software, and OT.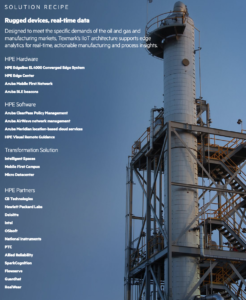 Results
A showcase refinery of the future
Automated worker safety, facility condition monitoring, and predictive maintenance bring transformational innovation, efficiency, and protection.
This custom-designed IIoT solution makes Texmark's workers and community even safer. By monitoring pump conditions— pressure, temperature, vibrations—potential malfunctions are immediately detected and notified, allowing a response before workers or production are endangered. Video analytics provide automated, cost-effective point-of-entry surveillance. And in case of emergency, insights from varied sources—geolocation, alarm system, weather conditions—can help determine the safest response.
The solution empowers employees to respond faster and reduce manual, repetitive tasks to focus on higher value activities. Realtime insight from sensors, combined with historic data and machine learning, are turned into actionable dashboards, personalized to each role. Operators can access the data they need, when they need it, through mobile devices and hands-free, voice activated wearables, and via HPE Visual Remote Guidance enterprise, secure software.
Digitization also helps attract talent and new business. At Texmark, employees know they are safer and can develop a futureproof skillset, while toll customers benefit from streamlined processes, valuable data, and better SLAs.
The company's bottom line will also be improved through maintenance savings and increased production uptime. IIoT and predictive analytics help identify which systems require hands-on attention. And Texmark can conduct more focused and efficient inspections, plan maintenance to reduce downtime, and extend the life of equipment.
Texmark's visibility of its plant keeps expanding. By adding AI, asset tracking, and ERP interconnection to its 3D plant model and mechanical integrity software, the company will come closer to its vision of an intelligent, unified system.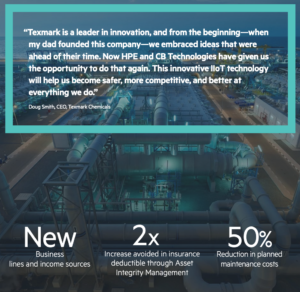 Dunia Kimia yang membangun dunia – berada di ujung tombak
Membawa visi IIoT ke dalam realitas operasi
IoT menjanjikan peningkatan keselamatan pekerja, produksi dan manajemen aset. Tetapi manufaktur secara  khusus memerlukan solusi lebih dari satu untuk semua ukuran atau pendekatan konservatifnya.
Visi Texmark bergantung pada Industrial Internet of Things (IIoT): perangkat yang disensor dikombinasikan dengan analitik canggih untuk menghasilkan wawasan, meningkatkan efisiensi, dan mengurangi risiko.
Tetapi menerapkan IIoT di pabrik petrokimia cukup membutuhkan infrastruktur yang berbeda.
Konektivitas harus ada di mana-mana, tetapi jika di terapkan maka fasilitas kabel dapat menjadi sangat mahal. Lingkungan Texmark menuntut teknologi yang kokoh dengan standar keamanan yang ketat., dimana setiap Detik diperhitungkan dalam pembuatannya. Untuk menghindari latensi data, analitik harus disampaikan pada akhirya.
Untuk mengintegrasikan  operasional TI , Texmark harus mendigitalkan pompa, pipa, proses, dan utilitas. Upaya ini membutuhkan keahlian lebih dari selusin vendor, dan perubahan budaya bagi karyawannya sendiri.
Untuk mencapai visinya tentang smart factory, Texmark membutuhkan pendekatan yang berani, multi-cabang: menentukan kasus penggunaan yang paling berharga, mencocokkan mereka dengan teknologi yang tepat, dan menyebarkan secara bersamaan, tanpa mengganggu operasi pabrik selama 24/7.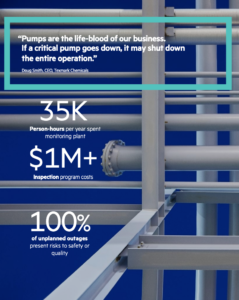 Solusi
Perjalanan IIoT, bersama dengan HPE dan mitranya
Texmark memulai perjalanan IIoT  dengan tiga fase, menyatukan Konsorsium Mitra untuk menciptakan Refinery of the Future yang terkemuka di industri.
Texmark meluncurkan proyek untuk mengimplementasikan IIoT dari tahap awal sampai pada akhir. Ini memanfaatkan keahlian CB Technologies untuk mengintegrasikan teknologi IIoT dari HPE, Aruba, dan  dari daftar berbagai mitra industri yang terkemuka. Pertama, Texmark mendirikan yayasan digital, memungkinkan konektivitas ujung-ke-inti. Aruba menggunakan jaringan mesh nirkabel yang aman, dengan jalur akses area lebar Kelas I Div 1 dan ClearPass untuk mengontrol akses. Aruba beacon menyediakan layanan berbasis lokasi. Solusi nirkabel yang memiliki setengah biaya jaringan kabel.
Untuk analitik tepi, Texmark memilih sistem HPE Edgeline Converged, platform IoT yang dibuat untuk lingkungan manufaktur. Solusi HPE Edge Center mengintegrasikan komputasi dan jaringan dalam satu kabinet. Sistem ini terhubung ke ruang kontrol Texmark, perangkat tepi, dan aset yang disensor seperti pompa, memungkinkan pengumpulan dan analisis data waktu nyata. System itu  juga dapat  menerima data dari perangkat lunak Sistem Kontrol Terdistribusi dari Texmark, mengintegrasikan OT dan IT.
Infrastruktur seperti ini berfungsi sebagai tulang punggung yang mendukung lima kerangka kerja solusi Texmark. Hal itu adalah: Pemeliharaan dan Analisis Prediktif, Video sebagai Sensor, Keselamatan dan Keamanan Pekerja, Koneksi antar pekerja dan Aset Manajemen Integritas.
Sebagai Integrator Sistem dan Kontraktor Dukungan TI resmi untuk seluruh proyek, CB Technologies mengatur system teknologi atas nama Konsorsium Mitra dan memelihara sistem TI Texmark pada saat kerangka  penyelesaian sedang  dikerahkan dan yang diintegrasikan.
Konsorsium Mitra mencakup HPE, CB Technologies, Aruba, Deloitte, Intel, PTC, dan banyak lainnya. Mitra-mitra ini berkolaborasi dalam kerangka kerja solusi yang berbeda, memungkinkan penyebaran dan penyatuan berbagai perangkat keras, perangkat lunak, dan OT secara bersamaan.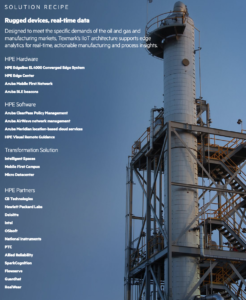 Hasil
Sebuah kilang yang dapat dipamerkan di masa depan
Keselamatan pekerja yang di rancang otomatis, pemantauan kondisi fasilitas, dan pemeliharaan prediktif ini telah menghadirkan inovasi, efisiensi, dan perlindungan transformasional.
Solusi IIoT yang dirancang secara khusus membuat pekerja dan komunitas Texmark menjadi lebih aman. Dengan memantau kondisi pompa — tekanan, suhu, getaran — potensi kerusakan akan segera terdeteksi dan  diberitahukan. Hal itu memungkinkan respons sebelum pekerja atau produksi selesai. Video analytics menyediakan pengawasan otomatis titik masuk yang bergerak secara otomatik dan menghemat biaya. Dalam keadaan darurat, wawasan dari berbagai sumber — geolokasi, sistem alarm, kondisi cuaca — dapat membantu menentukan respons teraman.
Solusi ini memberdayakan karyawan untuk merespons lebih cepat dan mengurangi tugas-tugas manual yang berulang-ulang, sehingga karyawan dapat fokus pada kegiatan yang bernilai lebih tinggi. Wawasan real-time dari sensor, dikombinasikan dengan data historis dan pembelajaran mesin, diubah menjadi dasbor yang dapat ditindaklanjuti, dipersonalisasi untuk setiap peran. Operator dapat mengakses data yang mereka butuhkan. Ketika mereka membutuhkannya, melalui perangkat seluler dan bebas-genggam, perangkat yang dapat diaktifkan dengan suara, dan melalui perusahaan Panduan Remote Visual HPE, perangkat lunak yang aman.
Digitalisasi juga membantu menarik  potensi bakat dan bisnis baru. Di Texmark, karyawan tahu bahwa mereka lebih aman dan dapat mengembangkan keterampilan untuk masa depan, sementara pelanggan tol mendapat manfaat dari proses yang sudah berjalan efisien, data yang berharga, dan SLA yang lebih baik.
Intinya perusahaan juga akan meningkat melalui penghematan pemeliharaan dan peningkatan waktu produksi. Analitik prediktif dan prediktif membantu mengidentifikasi sistem mana yang membutuhkan perhatian langsung. Dan Texmark dapat melakukan inspeksi yang lebih terfokus dan efisien, merencanakan pemeliharaan untuk mengurangi perhentian waktu, dan memperpanjang umur peralatan.
Visibilitas Texmark terhadap pabriknya terus berkembang. Dengan menambahkan AI, pelacakan aset, dan interkoneksi ERP ke model pabrik 3D dan perangkat lunak integritas mekanik, perusahaan akan semakin dekat dengan visinya tentang sistem yang cerdas dan terpadu.