Chemistry that builds our world–powered by data insights at the edge
Bring IIoT vision into the reality of operations
IoT promises enhanced worker safety, production and asset management. But specialized manufacturing needs more than one-size-fits-all solutions or a conservative approach.
Texmark's vision hinges on the promise of the Industrial Internet of Things (IIoT): sensored devices combined with advanced analytics to generate insights, increase efficiency, and reduce risks.
But implementing IIoT in a petrochemical plant requires a unique infrastructure.
Connectivity must be ubiquitous, but hard-wiring facilities can be prohibitively expensive. Texmark's edge environment demands ruggedized technology and stringent safety standards. Seconds count in manufacturing. To avoid data latency, analytics have to be delivered at the edge.
To integrate IT with its operations, Texmark had to digitize pumps, pipes, processes and utilities. The effort required the expertise of more than a dozen vendors, and a cultural shift for its own employees.
To achieve its vision of an intelligent plant, Texmark needed a bold, multi-pronged approach: define the most valuable use cases, match those with the right technologies, and deploy simultaneously, without disrupting 24/7 plant operations.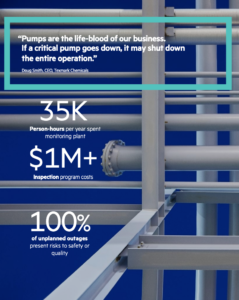 Solution
An IIoT journey, hand in hand with HPE and its partners
Texmark embarked on a three-phase IIoT journey, bringing together a Partner Consortium to create an industry-leading Refinery of the Future.
Texmark launched a project to implement end-to-end IIoT. It leveraged the expertise of CB Technologies to integrate IIoT technologies from HPE, Aruba, and an extensive list of industry-leading partners. First, Texmark established a digital foundation, enabling edge-to-core connectivity. Aruba deployed a secure wireless mesh network, with Class I Div 1 wide area access points and ClearPass for access control. Aruba beacons provide location-based services. The wireless solution came at about half the cost of a hardwired network.
For edge analytics, Texmark selected the HPE Edgeline Converged system, an IoT platform ruggedized for manufacturing environments. An HPE Edge Center solution integrates compute and networking within a single cabinet. The system is connected to Texmark's control room, edge devices, and sensored assets such as pumps, enabling real-time data collection and analytics. It also receives data from Texmark's Distributed Control System software, integrating OT and IT.
This infrastructure now serves as the backbone that supports Texmark's five solution frameworks: Predictive Maintenance and Analytics, Video as a Sensor, Worker Safety and Security, Connected Worker, and Asset Integrity Management.
As the official Systems Integrator and IT Support Contractor for the entire project, CB Technologies orchestrates technologies on behalf of the Partner Consortium and maintains Texmark's IT systems as the solution frameworks are deployed and integrated.
The Partner Consortium includes HPE, CB Technologies, Aruba, Deloitte, Intel, PTC, and many others. These partners collaborate on the different solution frameworks, enabling the simultaneous deployment and unification of a wide range of hardware, software, and OT.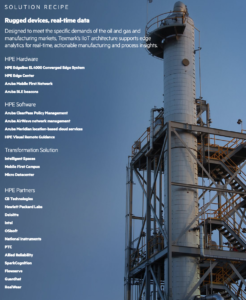 Results
A showcase refinery of the future
Automated worker safety, facility condition monitoring, and predictive maintenance bring transformational innovation, efficiency, and protection.
This custom-designed IIoT solution makes Texmark's workers and community even safer. By monitoring pump conditions— pressure, temperature, vibrations—potential malfunctions are immediately detected and notified, allowing a response before workers or production are endangered. Video analytics provide automated, cost-effective point-of-entry surveillance. And in case of emergency, insights from varied sources—geolocation, alarm system, weather conditions—can help determine the safest response.
The solution empowers employees to respond faster and reduce manual, repetitive tasks to focus on higher value activities. Realtime insight from sensors, combined with historic data and machine learning, are turned into actionable dashboards, personalized to each role. Operators can access the data they need, when they need it, through mobile devices and hands-free, voice activated wearables, and via HPE Visual Remote Guidance enterprise, secure software.
Digitization also helps attract talent and new business. At Texmark, employees know they are safer and can develop a futureproof skillset, while toll customers benefit from streamlined processes, valuable data, and better SLAs.
The company's bottom line will also be improved through maintenance savings and increased production uptime. IIoT and predictive analytics help identify which systems require hands-on attention. And Texmark can conduct more focused and efficient inspections, plan maintenance to reduce downtime, and extend the life of equipment.
Texmark's visibility of its plant keeps expanding. By adding AI, asset tracking, and ERP interconnection to its 3D plant model and mechanical integrity software, the company will come closer to its vision of an intelligent, unified system.