Prasarana Powers Service Excellence with Huawei's All-In-One Rail Communication System
Why Huawei?
Demonstrating superlative experience with railway communication systems, Huawei's rail solutions cover more than 100,000 km of railway for more than 50 urban rail lines across the globe, backed by an ecosystem of more than 60 partners in the rail industry.
Huawei brought extensive domain knowledge to the table for the integration of such an extensive communication system. Much complexities and risks were inherent to collaborate and supervise third-party device and service suppliers; manage complicated and overlapping construction and commissioning scenarios; and track all documentations across the entire design to implementation process. Not forgetting managing the Reliability, Availability, Maintainability and Safety (RAMS) assurance and testing, certification processes and more.
Huawei's Solution for Prasarana
Huawei delivered an All-in-One Integrated Communication System for the Ampang LRT extension comprising of extensive systems including a Central Transmission System (CTS), Data- Communication, Terrestrial Trunked Radio (TETRA) system, IP PBX solution, Voice Recording System (VRS), Video Surveillance (CCTV), Passenger Help Points (PHP), Public Address (PA), Passenger Information Display System (PIDS), Clock, and Supervisory Control and Data Acquisition (SCADA) subsystems, in addition to optical cables and other railway communication devices.

Enhanced operational visibility with new CTS: Prasarana chose Huawei's Hybrid Multi-Service Transport Solution (MSTP) to establish a 10G backbone transmission network that supports future scalability to an all-IP transmission network. By converging application data and real-time status information at the operations center, the ultra- high-bandwidth CTS enhanced Prasarana's operational visibility by enabling its rail operations staff to visually monitor the statuses of devices, stations and trains in real- time. Huawei's enterprise switches were also deployed to support both mission-critical and non mission-critical IP services, while enabling interconnectivity with the existing transmission system.
Speed up responsiveness to emergencies and equipment failure: To facilitate seamless internal communication, the legacy UHF-based radio system was replaced by a new third-party TETRA system deployed along both the original and extension lines. Prasarana's analog telephone system was also replaced with Huawei's IP PBX solution to provide Voice-over-IP (VoIP) services along both the original and extension lines, featuring both public- and private- telephony integration. Huawei also offered a proven VRS to enable the reliable recording capabilities in the radio trunking and telephone systems, featuring customized mutual backup, archive and deletion features. For track-side communication, Huawei integrated a third-party PHP system to allow Prasarana's staff to call the customer service or dispatch center via just a one-key function. The capacities of the existing Public Address (PA) and Passenger Information Display Systems (PIDS) were also expanded, with the products and solutions incorporated into Huawei's communication system for the LRT extension. This enabled more efficient handling of public announcement and passenger information services along the entire Ampang LRT line. Using the new radio trunking system and VoIP telephony systems, Prasarana's operations staff can now seamlessly contact staff and passengers across its operations centers, stations and even onboard the trains. With voice recording services, productivity is enhanced as passenger announcements can be pre-recorded for specific situations. This speeds up responsiveness in communicating unexpected emergencies or device faults both internally and to passengers. Besides streamlining both internal and external communication, these systems improved operational dispatching efficiencies and enhanced operational management — both key in helping Prasarana ptimize and ensure consistent customer experience in the long run.

Ensuring comprehensive surveillance for greater peace of mind: To ensure comprehensive surveillance, Huawei implemented a digital, high-definition, intelligent and cloud-based video surveillance solution featuring high- performance IP cameras deployed at stations and trackside along the Ampang LRT extension. Interconnecting with existing NUUO surveillance software platform and Network Video Recorders (NVRs) along the existing railway, Huawei ensured that the new CCTVs complied with urban rail EMC requirements and NEMA 4X/ IP66 protection levels. The new video surveillance system also integrates with the PHP system to record emergencies such as help-seeking scenarios, enabling Prasarana's operations staff with speedy first-response to urgent situations.
Ensuring reliability with comprehensive supervision over electrical and power infrastructure: Huawei also helped to replace the existing line's obsolete SCADA system with a new, third-party SCADA system which helps Prasarana perform real-time monitoring of all electrical and power supply infrastructures along the entire line. To ensure comprehensive supervision, the new SCADA system also controls some of the electrical devices remotely, while collecting alarm information on other subsystems via IP or dry contacts.
Successful opening of LRT extension with shortened deployment: Huawei's expert consulting and project delivery services successfully shaved more than 40% off the deployment time by delivering the project in 7 months instead of the planned 12 months. This included efficient management of end-to-end services with proven workflows, including: end-to-end engineering services from design, installation, commissioning to acceptance; an EN50126-compliant end-to-end system assurance services including Electromagnetic Compatibility (EMC) assurance services, RAM assurance services, security analysis, certification services and a comprehensive Quality Assurance (QA) system to ensure the quality delivery of all services. Third-party systems were also subjected to a thorough and stringent 3-step pre-integration, integration and on-site verification process to ensure the stable and reliable interoperability of the functions and performance of interfaces between sub-systems — also contributing to the successful and timely delivery of the new rail communication system for Prasarana's Ampang LRT Extension.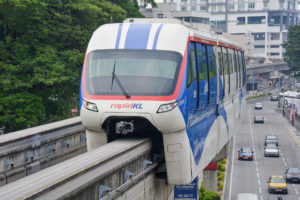 Fuelling World-Class Public Transportation for Malaysia
Prasarana believed in building a reliable, affordable, proficient, integrated and dynamic rail network to fulfill its mission of increasing public transportation usage on a sustainable basis. To date, the end-to-end communication systems have run smoothly and reliably, while empowering reliable operations on the Ampang LRT Extension.
Huawei played a significant role in helping Prasarana on digital transformation to build a state-of-the-art, modern public transportation system.
Keunggulan layanan Prasarana Power dengan Huawei All-In-One Rail sistem komunikasi
Kenapa Menggunakan Huawei?
Mendemonstrasikan pengalaman terbaik dengan sistem komunikasi rel kereta api, solusi Huawei rail mencakup lebih dari 100.000 km kereta api untuk lebih dari 50 jalur rel perkotaan di seluruh dunia, yang didukung oleh ekosistem yang memiliki lebih dari 60 mitra di industri rel kereta api.
Huawei mengangkat pengetahuan domain untuk integrasi sistem komunikasi yang luas. Banyak masalah serta resiko dalam berkolaborasi, mengawasi pemasok perangkat maupun memantau layanan pihak ketiga; mengelola skenario konstruksi serta commissioning yang rumit dan tumpang tindih; lalu melacak semua dokumentasi di seluruh desain untuk proses implementasi. Tidak lupa mengelola jaminan dan pengujian hasil kerja, Ketersediaan, Maintain, keselamatan (RAMS), proses sertifikasi, dan yang lainnya.
Solusi Huawei untuk Prasarana
Huawei menghadirkan Sistem Komunikasi All-in-One untuk ekstensi LRT yang termasuk Sistem Transmisi Sentral (CTS), Komunikasi Data, sistem Radio Trunked Terestrial (TETRA), solusi IP PBX, Sistem Perekaman Suara (VRS), Video Surveillance (CCTV), Poin Bantuan Penumpang (PHP), Alamat Publik (PA), Sistem Informasi Penumpang (PIDS), Jam, subsistem Kontrol Pengawasan dan Akuisisi Data (SCADA).

Meningkatkan visibilitas operasional dengan CTS:

Prasarana memilih Solusi Transportasi Multi-Layanan Hybrid (MSTP) Huawei untuk membangun jaringan transmisi 10G backbone yang mendukung skalabilitas masa depan ke jaringan transmisi All-IP. Dengan memadukan data aplikasi dan informasi status real-time di pusat operasi, CTS bandwidth meningkatkan visibilitas operasional Prasarana dengan memaksimalkan staf operasi relnya untuk memantau secara visual status perangkat, stasiun, dan kereta api secara real-time. Huawei juga dikerahkan untuk mendukung layanan IP mission-critical dan non mission-critical, sehingga dapat memungkinkan interkonektivitas dengan sistem transmisi yang ada.
Mempercepat responsivitas terhadap keadaan darurat dan kesalahan pada perangkat: Untuk memfasilitasi komunikasi internal yang baik, sistem radio lama berbasis UHF digantikan oleh sistem TETRA yang digunakan untuk sepanjang jalur rail. Sistem telepon analog Prasarana juga diganti dengan solusi IP PBX Huawei untuk menyediakan layanan Voice-over-IP (VoIP) di sepanjang jalur rail, sehingga menampilkan integrasi telepon publik dan swasta. Huawei juga menawarkan VRS yang telah terbukti agar dapat memungkinkan kemampuan perekaman sehingga dapat diandalkan di radio trunking dan sistem telepon, menampilkan fitur cadangan, arsip, dan penghapusan yang bisa disesuaikan. Untuk komunikasi sisi lintasan, Huawei mengintegrasikan sistem PHP sehingga memungkinkan staf Prasarana untuk menghubungi layanan pelanggan atau pusat pengiriman hanya dengan satu pintu. Kapasitas dari Public Address (PA) dan Passenger Information Display System (PIDS) yang ada juga diperluas, dengan produk dan solusi yang dimasukkan ke dalam sistem komunikasi Huawei untuk perpanjangan LRT. Hal ini memungkinkan penanganan pengumuman publik dan layanan informasi penumpang yang lebih efisien di sepanjang jalur LRT. Menggunakan sistem trunking radio baru dan sistem telepon VoIP, staf operasi Prasarana sekarang dapat dengan mudah menghubungi staf dan penumpang di seluruh pusat operasinya, stasiun, dan bahkan di atas kereta. Dengan layanan perekaman suara, produktivitas ditingkatkan karena pengumuman penumpang dapat direkam untuk situasi tertentu. hal Ini mempercepat daya tanggap dalam mengomunikasikan keadaan darurat yang tidak terduga atau kesalahan perangkat baik secara internal maupun kepada penumpang. Selain mengurangi komunikasi internal dan eksternal, sistem ini meningkatkan efisiensi pengiriman operasional dan meningkatkan manajemen operasional – keduanya merupakan kunci dalam membantu Prasarana agar dapat memastikan pengalaman pelanggan.

Memastikan pengawasan yang komprehensif: Untuk memastikan pengawasan yang komprehensif, Huawei menerapkan solusi pengawasan video digital dan berbasis cloud yang menampilkan kamera IP beresolusi tinggi yang ditempatkan di stasiun dan di sepanjang jalur LRT. Perangkat tersebut terkoneksi dengan platform software NUUO dan Network Video Recorder (NVR) di sepanjang jalur kereta api, Huawei memastikan bahwa CCTV mengikuti aturan standar EMC City. Sistem pengawasan video yang baru juga terintegrasi dengan sistem PHP untuk merekam keadaan darurat seperti skenario pencarian bantuan, sehingga memungkinkan staf Prasarana merespon dengan cepat untuk situasi darurat.
Memastikan semuanya dapat berjalan baik dengan pengawasan komprehensif terhadap infrastruktur listrik dan daya: Huawei membantu merubah sistem SCADA yang lama dengan sistem SCADA third-party, yang dapat membantu Prasarana melakukan pemantauan real-time dari semua infrastruktur seperti pasokan listrik dan daya di seluruh lini. Untuk memastikan pengawasan berjalan secara komprehensif, sistem SCADA yang baru juga dapat mengontrol beberapa perangkat listrik dari jarak jauh, dengan mengumpulkan informasi berdasarkan alarm pada subsistem melalui IP atau dry contact.
Pembukaan perluasan LRT yang berhasil dengan transmisi yang lebih singkat: Huawei berhasil memotong lebih dari 40% dari waktu yang sudah ditentukan dengan mengirimkan proyek dalam waktu 7 bulan, bukan 12 bulan yang direncanakan. Ini termasuk manajemen efisien layanan end-to-end dengan alur kerja yang terbukti, termasuk: layanan teknik end-to-end dari desain, instalasi, commissioning hingga penerimaan; layanan jaminan sistem end-to-end yang sesuai dengan EN50126 termasuk layanan jaminan Electromagnetic Compatibility (EMC), waranty RAM, analisis keamanan, layanan sertifikasi, dan sistem Jaminan Kualitas (QA) yang komprehensif untuk memastikan pengiriman kualitas semua layanan. Sistem Third-party mengalami proses pra-integrasi, integrasi, dan verifikasi. secara menyeluruh 3 langkah ini memastikan interoperabilitas yang stabil dan dapat diandalkan agar fungsi dan kinerja semua divisi dapat berkontribusi pada pengiriman sistem komunikasi dapat berjalan dengan baik dan tepat waktu.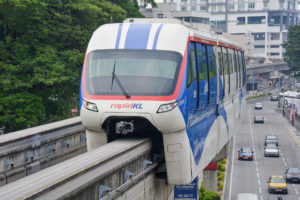 Transportasi umum kelas dunia untuk Malaysia
Prasarana percaya dalam membangun jaringan kereta api yang handal, terjangkau, terintegrasi dan dinamis untuk memenuhi misinya dalam meningkatkan penggunaan transportasi umum secara berkelanjutan. Hingga saat ini, sistem komunikasi end-to-end telah berjalan dengan baik.
Huawei memainkan peran penting dalam membantu Prasarana untuk transformasi digital dalam membangun sistem transportasi publik modern yang canggih.